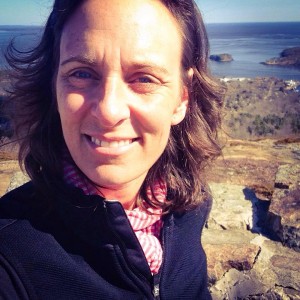 Why did you decide to work for HIOBS?
Resilience, grit, joy, compassion, and connection to community: these are elements of the human experience that resonate with me. I have a strong drive to help people develop these connections within themselves and believe in the incredible power of the work HIOBS does in the lives of its participants.
I am originally from Western Australia, and have known about OB since I was a kid. I first came into direct contact with Outward Bounders during my "walkabout" after leaving high school. Many Aussies leave home for a year or more to "find themselves' through travel – kind of like a gap year. I did, too. Those travels (I was drawn to wild places) brought me into contact with OB instructors and programs in both the UK and Europe, and everyone I met seemed so capable and resilient, that I decided on my return to Australia to work in the outdoors.
After a number of  years studying and working my way through college, leading school groups and trips in the outback and forests of Western Australia, and then as a Program Director for a company that did a lot of challenge courses for corporate groups and schools, I moved to Maine in 1999 to work for The Chewonki Foundation and soon discovered there was an Outward Bound in Maine. I had some Aussie friends who came to work with the land program, and I would see groups out on the water while leading my own trips. The pulling boats always fascinated me. I love that Outward Bound wilderness courses continue to stick to long-form programming, using the natural challenges of the wilderness and its elements to provide learning experiences for students, and that the programs continue to provide opportunities for learning and reflection through structured lessons, feedback opportunities and solos.
I now live in Lincolnville – a small town just north of Camden in Maine, and I spend a lot of time on the salt and fresh water – and in the hills around us. I have gotten to know many of the members of the Hurricane Island Outward Bound School community in this area over the last ten or so years – we ski, hike, swim and raise our kids together in usual small-town fashion… and so I have gotten to see the impact of HIOBS on the lives of my peers. They are resilient, compassionate, playful, thoughtful and have formed a tight-knit community here in Midcoast Maine. When I found out this job was open, it felt like a natural fit.
What did you do before joining HIOBS as the Admissions Director in late 2015?
Most recently I worked with HIOBS Alum and Instructor David Conover at Compass Light Productions as Production Office Manager and Associate Producer. This meant I managed both the office, and many of the production elements of a busy small video production company. Compass Light produces motion pictures that explore the human relationship to the ocean and the outdoors. They have an active network of outdoor production personnel in 55 countries worldwide, and they build their programming from the content they gather around the world.  CL has been nominated for Emmy awards for Outstanding Director and Outstanding Science and Technology Program, and they are based out of a restored barn in Camden, ME. I learned a lot about storytelling, media management, and about international and domestic production management – all skills that have been remarkably transferable.
As I mentioned earlier, when I first moved to Maine (in 1999), I worked at the Chewonki Foundation and became the Program Director of the Environmental Education Program there after a couple of years on staff as a teacher. This meant managing, designing and marketing EE programs for kids from all over New England, and coordinating a staff of about 20 awesome teachers. That was a lot of fun. By default, this also meant getting to lead canoe and sea kayak trips for both kids and adults in Maine and Florida, which I also loved.
Before moving to Maine I was Program Director for Merribrook Development Training, an innovative challenge programming school in Western Australia who mixed together classic low and high ropes course programming with journey stories and wilderness experiences for both corporate and school groups. I count myself very lucky to have worked there at the time I did, as I learned a huge amount from the leadership about playing nicely and staying open to change.
Along the way I have also been a professional photographer, run my own small coaching business that inspires people to spend more time outside (Happier Outside), and freelanced as a corporate trainer.
Tell us – what does the Director of Admissions do?
Admissions (or Student Services as this department is referred to in some OB schools) is focused on getting the right student onto the right course at the right time.  We process and screen all applications, and liaise with Program, Safety and Development to make sure we are all talking the same language and sharing information well, with a focus on delivering great programs. There are Course Advisors who do a lot of the direct-to-student liaison – although I do that too. My focus is also on keeping the channels of communication open with our customers, keeping our department connected to the other spokes of the wheel of HIOBS and OB nationally, policy and procedure management and finding ways to improve what we do in small (and sometimes big) ways.
If you had to describe or associate HIOBS with one word what would that word be?
Resilience.
What is your favorite outdoor activity?
Oh geez. You're kidding, right? The easiest thing for me to do regularly right now is run or hike. I can leave my house and head into the hills without even getting in my car, and I just LOVE that. No matter the weather, I can still get my fix.
But if all other things were equal, and when my kids are happy/ I have enough time/ there is little or no cost involved/ the weather is cooperating and if I could do something any time – I would have to say my go-to activity is being on the salt water. Be it a kayak, a surfboard, a sailboat, a big sailboat, a whaler, a SUP…it doesn't really matter to me – being on the salt water puts me into a state of BlueMind and that is something I just love. I grew up one street away from the beach, and so nothing gets me happy like a trip to the beach.
What is something few people know about you? 
Ummmmmm….
I play guitar and like to think I could perform some day (but my singing is atrocious). I have crossed the Atlantic on a sailboat. I am a mom of two amazing kids, am getting married next year to the most humble, loving and inspiring man I have ever met, and I love to garden. I've never been to New Zealand – people cannot seem to believe that an Australian has never been to NZ.
…. and I once held a lion.