What HIOBS course did you take?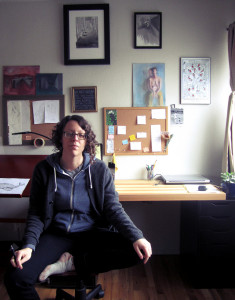 I did a 22 day sailing course in July 1997 when I was sixteen years old.
What is your favorite or funniest memory from course?
Every morning at 5:30am we jumped into the cold Maine water then scrambled back onto the boat to hang off the lines and drip dry. It was always hilarious because we'd turn from groggy whining teenagers to yelping wide-awake maniacs. We'd all be squealing and laughing and shivering. It's better than the strongest cup of coffee to get you going in the morning!
What was the hardest part about your course?
The hardest and best part of my course was the solo. The first night was terrifying, but then I woke up, and wasn't scared anymore. It's hard to explain the richness of that experience. I remember our instructors, Meg and Craig, talking to the group before our solos. They spoke about learning to be with yourself without any distractions and the practice of being in the moment. That really resonated with me, and still does. It's so rare that we have the opportunity to just be with ourselves because it's HARD to be with yourself! That's why humans have created so many distractions. I'm so glad to have learned at a young age that solitude is something I need to give myself regularly to feel grounded and to be creative.
What lessons did you learn at Outward Bound and how have you been able to use those lessons in your life?
This is an excerpt from my course journal that best describes what I learned. I still subscribe to this philosophy:
"I'm so happy to be a part of Outward Bound, and I hope I'll carry my experiences with me for the rest of my life, I hope I never forget what I have learned out here… I think I do have a new degree of self-awareness and a new confidence… I'll always change and I'll always grow – maybe that's what life is – maybe that's what you're supposed to figure out – that there is no solid answer. You never totally find yourself because once you think you do there is always something more you can find… that's what I have always wanted, a time where I've just stopped and I've come to a total self-realization, but now I know that can never happen, and I'm glad it can't because then life would be so boring… you'd just be stuck."
Tell us about what you are doing now. We love your artwork!
Thank you!! I'm living in beautiful Portland, Oregon with my partner and our dog. I have done a lot of different things for work; mostly teaching art. But, my main focus is making art. I'm currently working on starting a freelance illustration career. I do a lot of ink drawings that I color digitally and have for sale online. Most of my art is nature-based or figurative. I spend a lot of time hiking and getting really inspired by all the gorgeous trees we live with. I carry what I learned on my solo into my everyday life because being creative requires solitude. Even if you are working on collaborative projects you need time alone to develop ideas and take creative risks. The things I learned on my Outward Bound continue to help my art practice.
What advice would you give to students who are considering an Outward Bound program.
Go! It will be difficult and scary. You will be challenged emotionally and physically. It will be the best experience you have ever had! I talk about and think back to my Outward Bound experience constantly. It helped to shape the person I am today and I feel so lucky to have had opportunity to experience a truly life-changing adventure. I loved the experience so much that I went on another course when I turned thirty!
Check out Leigh's website: www.leighannrooney.com