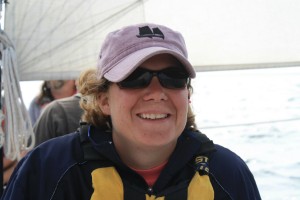 Meet our Senior Admissions Advisor — Sydney Cooper! Sydney previously served as a field staff member for HIOBS so, needless to say, she brings a wealth of knowledge to her new role!
How did you learn about HIOBS?
My uncle worked for HIOBS for a long time and I used to visit Maine in the summers.  I loved hearing his stories and adventures. In fact he just recently helped to design and build the new staff cabins at our Newry base.
What are some of your favorite or funniest HIOBS memories?
Far too many to count. One that stands out is when a group had a layover day on the Rapid River. We had finished our portage a day early and were able to have an extra day at the camp site. Our group decided to paddle our canoes out to an island and have lunch. It was a grey morning maybe 6:30am and we paddled in silence out of our campsite and we rounded a bend in the river and in front of us was a mother Moose and her calf playing in the water. We were able to sit and watch for about 5 minutes as they played and swam. We paddled a bit further and a bald eagle swooped down from his nest right over our canoes. The students continued to paddle in silence and were in total awe of the wildlife that we were able to experience.
What was your favorite course to instruct and why?
My favorite course to instruct was a Semester course in Florida. Longer courses like semesters allow for so much development for both students and instructors. We were able to travel from Lake Okeechobee down to the Florida Keys. If we had been on a shorter course we would have been unable to cover that distance. We were able to experience so many different elements including sailing through the lock system from Okeechobee down through the everglades and Florida Bay. The amount of wildlife we saw was incredible. Manatees, dolphins, sting rays, reef fish, pelicans. We felt so remote even though we were never more than a couple of miles offshore.
What are you doing in your new job role?
My new role for HIOBS is Senior Course Advisor. I help to prepare our students for course. From sending and reviewing their application materials, answering any questions or concerns they may have, and lastly passing the information on to the staff that will be working with them directly on course.
Describe HIOBS in one word?
Commitment