Have you ever wondered what students eat and how they cook and transport food while on course? Whether it's on land or out on the open ocean, there's no shortage of fine dining!
Step 1: Food selection and packout
One of the most important tasks during the preparation period for an upcoming course is the food packout. At this point, instructors have previously selected a breakfast, lunch, dinner, and two snacks for each day of the course and, with the help of logisticians on base, they are able to select the necessary ingredients ahead of time for each of these meals for the first week or so of course. They make sure to accommodate any dietary restrictions that course participants may have.
Step 2: Utensils and stoves
Newry (Land)
The utensils, pots, spices and Whisperlite stoves need to be packed. The cooking utensils each group is provided with are shown in the center picture below. One food bag is given to each student, divided up evenly by weight OR by meals. Students will also carry their own bowl and utensils.
Wheeler Bay (Sea)
All pots, pans, and personal dishes are stored in the galley box which is kept forward of the cockpit. The propane stove is kept in the stove box, under the mizzen mast in the cockpit, and this is where most of the stove cooking takes place.
Step 3: Food Stowage
Wheeler Bay (Sea)
On the pulling boat, food is stored in three separate locations. Produce is stored in the foreword deck where it will stay cool and fresh for a longer period of time; non-perishables are kept in waterproof buckets that are stowed in the midship under the thwarts along with student duffels; cans and other items that fit are placed in the lazarette (or "the Laz") which is a compartment under the cockpit that keeps these extra food items cool.
Step 4: Cooking
Newry (Land)
Once students are checked off to use the stoves without supervision, there are two student cooks per day. When it's mealtime, they get out the necessary ingredients and items they need to prepare the meals. An important part of setting up camp at the end of the day is setting up the "kitchen" tarp so if it's raining, the cooks are still able to prepare the food. Since the meals are planned out before the course starts, students have the correct amount of ingredients for each meal. All they have to do is cook and assemble!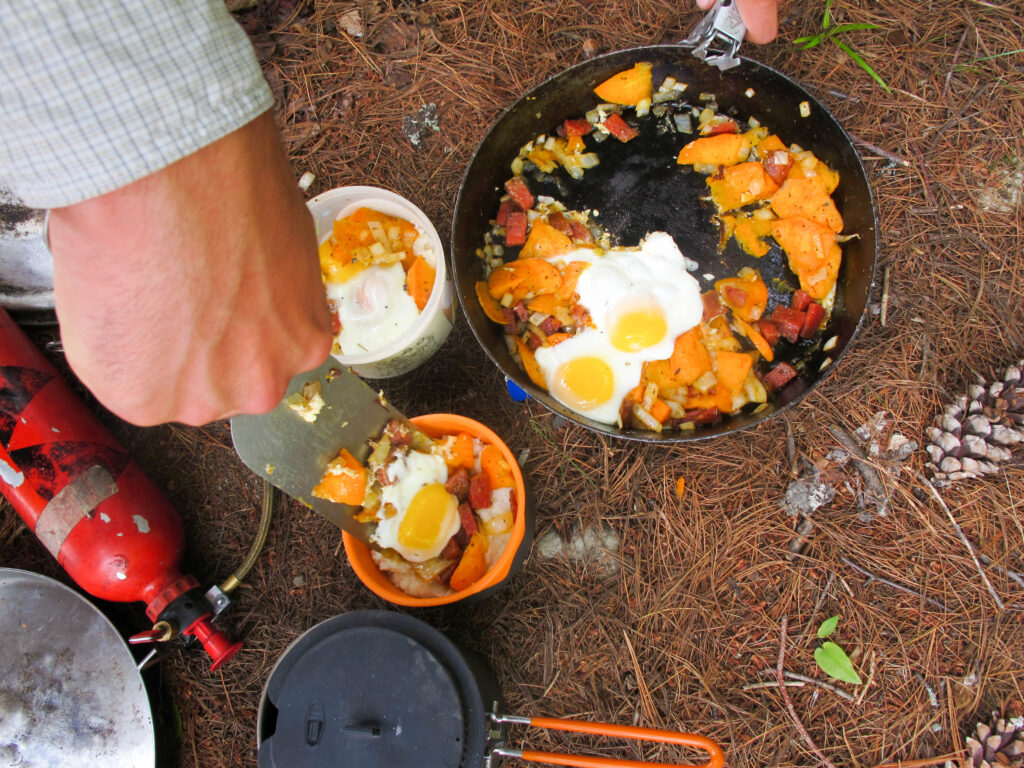 Wheeler Bay (Sea)
On a pulling boat, there is no standard galley, or kitchen, like there might be on other sailing vessels.  In fact, slicing, dicing, and mixing are cooking activities that can take place at pretty much any given spot onboard depending on the conditions. Sandwich making, bagel shmearing, and wrap building can take place on the foredeck, but any heat requiring cooking happens in the cockpit. During these meal prep times, the cockpit transforms as the stove box opens up to reveal the hidden propane two-burner stove. Two students at a time are in charge of the cooking for the day on a rotating basis so all members of the crew have a chance to make food for their crewmates. While no recipes are brought on board, lists of ingredients are provided for each meal, and students are encouraged to experiment while cooking with the help of knowledge from their peers and guidance from instructors.
Step 5: Cleaning Up
Newry (Land)
Everyone is responsible for cleaning their own bowl and spoon/fork. An important rule is that whoever cooks doesn't have to worry about cleaning the knives, cooking spoons, cutting board, and pots (yay!). Any food that isn't eaten goes into the compost bag. At Outward Bound, we have a strong leave no trace (LNT) policy. It's important for us to leave campsites the way we found them, and that includes not leaving ANY food behind. Once everything is cleaned up after mealtime, the food must be strung up on the critter line. In order to keep all food in the same place and to insure that no critters get into the food, the red bags are hung from a rope between two trees.
Wheeler Bay (Sea)
Just like there are roles for the daily cooks, two students are also assigned to be dishwashers or "skull-dogs" each day. These students will use the soap and scrubbier that are in each galley box to clean the dirty dishes in the ocean alongside the pulling boat while making sure not to let go of anything!
Special Meals
Newry (Land): Cinnamon Rolls
One of the most rewarding parts of doing a backpacking and canoeing course at Outward Bound is the "solo." During this time, students spend a day and a night or two camping, cooking, and spending time by themselves. This can be a great time to reflect on the journey thus far and to put newly learned skills to good use. After "solos" are complete, the instructors usually like to prepare a special treat for their students, one of them being cinnamon rolls!
Vegan+Gluten-Free Cinnamon Rolls, Fry-Bake Style:
Before course starts, instructors measure out the dry ingredients into a bag. This makes it easy to assemble in the field.
The assembling and actual baking happens while out on course. Since we don't have ovens in the woods, we like to use Fry-Bake pans, which are lightweight with thick sides and an air-tight lid.
Click the links below to check out the recipe we use (courtesy of the Minimalist Baker), as well as a video on how to make backcountry cinnamon rolls (courtesy of Backcountry Exposure)!
Recipe: https://minimalistbaker.com/vegan-gluten-free-cinnamon-rolls/
Backcountry Cinnamon Rolls: https://www.youtube.com/watch?v=VACFZR2qd-Y
Wheeler Bay (Sea): Clamming
Every once in a while, a course will stumble upon the perfect mudflats for clamming and the opportunity is one too exciting to pass up. Once the local marine steward has been contacted to make sure the area is free of red tide, students are able to try their hand at clamming. Often, these clamming excursions can turn into an opportunity for a creative meal that might not have previously been on the pack-out menu. A true New England Clam Chowder is a popular result of these clamming trips and is a simple and delicious way to end a day on a pulling boat.
Clam Chowder, Pulling Boat Style:
Leave the freshly caught clams in a mesh bag tied off the side of the boat in the sea water to rinse out any excess sand or mud for about 30 minutes to 3 hours.
Once the clams have been rinsed thoroughly, steam them in salt water for about 10 minutes until they start to open up.
While the clams are steaming, sautéed minced garlic, onions, celery, and carrots in butter with spices such as basil, salt, and herb mix.
Next, boil potatoes in lightly salted fresh water until potatoes can be speared easily with a fork. Set aside.
In the large pot, combine a few cans of evaporated milk and canned milk. Then add the potatoes, sautéed veg, and steamed clams and simmer until done!