CELEBRATING OUR LAND PROGRAM STAFF
ANNUAL REPORT 2021
Anna Parker, or AP, is a huge part of our Land Program team in Newry. She first joined HIOBS in 2014 while still a student at Middlebury College, working logistics her first summer and returning as an assistant instructor the following year. She has now clocked over 730 days (!), most of those in the field with students. In addition to working as a field instructor and course director, AP is also a trainer and has taught new hires coming into HIOBS for many years. Her team says she is a wealth of knowledge, from cooking in the woods to making every course a place for learning.
HIOBS isn't AP's first exposure to Outward Bound. She was an alumna before she was an instructor. When she was 12, she took a 10-day Thompson Island Outward Bound School course sailing around Boston harbor—and she loved it. That experience stuck with her, so when she was looking for summer jobs, she knew she wanted something outdoor-focused, and Outward Bound was a natural fit.
An incredible advocate for Outward Bound, AP says a handful of things make a HIOBS course special—from the natural beauty of Maine and the diverse wilderness areas our courses cover to the lessons and skills our students learn while out in the field. She says we offer students the chance to push themselves and gain skills they might not learn in a typical classroom, like leadership and compassion toward others. Perhaps most importantly, HIOBS gives people of all ages experiences where they feel ownership over what they do and how they learn.
Two of AP's favorite things about working at HIOBS are the students and the community. As an instructor, she loves seeing students grow and develop while on course. Her team says that AP's approachable, down-to-earth manner helps students feel a sense of belonging and gives them the confidence to do things they may never have done before.
Doing this takes a village, and AP notes that the school has an incredible community of highly dedicated people. And that despite significant challenges in recent years, this community has always worked to ensure that both students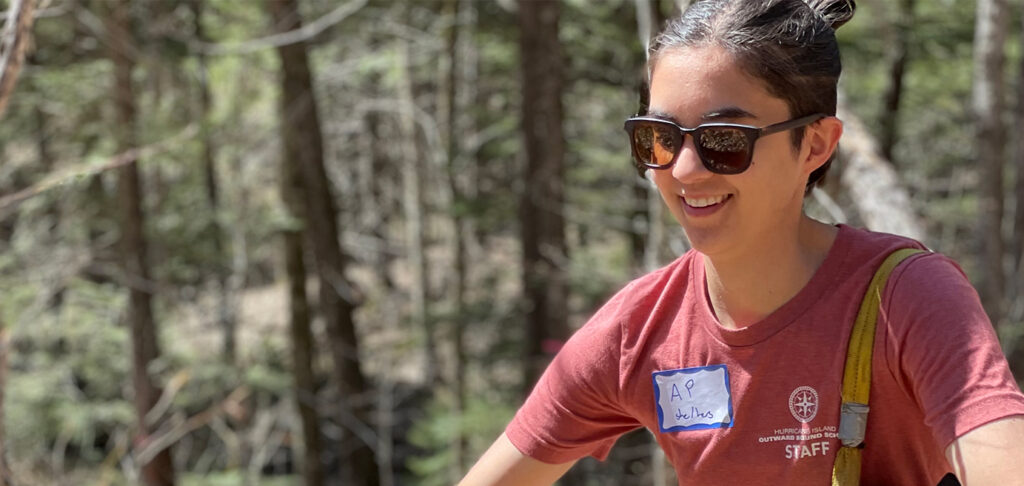 "Watching students grow is an incredible gift. We ask a lot of them, and it requires them to step up. They gain confidence in their physical abilities and their ability to lead others. And it is so cool. It's a really special thing to be a part of."
– ANNA PARKER
This piece originally appeared in the 2021 Annual Report. Read more stories and see the full report here.