What is your role at HIOBS?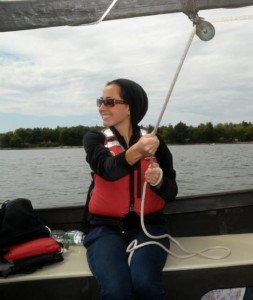 I am the Marketing Director which means I work on/with the website, advertising, social media, email, videos, events, etc. My time is spent not only working with the team at HIOBS in Maine, but also with with our national Outward Bound Services Group based in Denver, Colorado.
How did you decide to work for HIOBS?
I wanted to do something that was a departure from what I had done previously. I had marketed for a group of cancer hospitals, then for a nonprofit biomedical research organization. I wanted to try my hand at marketing something that had become a real passion in my life – the outdoors and outdoor education. I knew of Outward Bound and, upon learning more about HIOBS, knew I had to be there.
What do you like best about working for HIOBS?
Everything. I love my colleagues, the students I meet, the types of programs we offer. The letters that students write after course sum up the reason I work here – we are making a real, lasting impact in the lives of teens, college kids, and adults. Many people work at an organization that offers a product or service that makes a positive difference in peoples' lives, but the employees are steps removed from the "end product" and seeing how lives are transformed. Our staff, and especially the field staff, actually get to see the transformation. And that's just awesome.
What is your favorite HIOBS memory?
I cannot pick just one. It would be a three way tie probably. The first was sailing to Vinalhaven one evening on an adult sailing program where the conditions had been pretty intense. When we arrived the sudden calmness was astounding. The lights from the houses on the island and the sky looked like something out of a Thomas Kinkade painting. The second memory would be learning to whitewater raft with a group of our semester students on the Pacuare River in Costa Rica – one of my favorite places on earth. The sound of the waterfalls and the rainforest amid the crashing of the rafts was something to behold. The third was the 50th Anniversary weekend last year out on Hurricane Island. It was wonderful to meet people of all ages with amazing stories about HIOBS.
Choose one word to sum up HIOBS.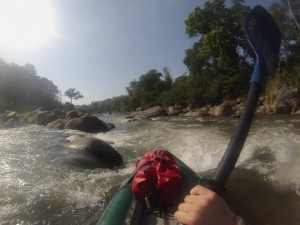 Teamwork.
When you are not at work, what do you enjoy doing?
Though I own a home in Maine, I live in Oklahoma. When I'm in Maine, I love hiking, whitewater rafting, sailing, and eating seafood. When I'm in Oklahoma, I love being with family, playing with my dogs, spending time on the lakes and attending rodeos (yee-haw!).