In our monthly "Dear John" post, our lovable, curmudgeonly John McBride, Director of Fleet &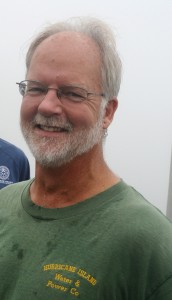 Facilities, answers your burning questions.
What did you do for the 4th?
I TOOK MY WIFE TO BETHEL TO ENJOY THE ART FAIR WHILE I WORKED ON THE WATER SYSTEM AT THE NEWRY BASE. AFTER THE CISTERN WAS REPAIRED WE GOT A BITE TO EAT AND PUT OUR KAYAKS IN BEAUTIFUL SOUTH POND NEAR MT. ABRAM IN GREENWOOD FOR A LOVELY PADDLE. THEN HOME FOR THE FIREWORKS.
What's happening around base right now?
WE'RE ALL BUSIER THAN A ONE-ARMED CLAM DIGGER. GETTING READY TO LAUNCH THE 8TH PULLING BOAT FOR MID-SEASON SURGE. BOTH WHEELER BAY AND NEWRY BASE ARE HUMMING WITH STAFF AND STUDENTS.
What's the most interesting or funniest thing you've experienced so far this summer season?
WELL, I LOVE POTTY HUMOR… ANDY SAID THAT THE UPSTAIRS TOILET IN THE BEAN BUILDING IN NEWRY WOULDN'T FLUSH AT ALL. I BROUGHT OVER AND INSTALLED A COMPLETELY NEW HOPPER AND BROUGHT THE TROUBLED UNIT BACK TO WHEELER BAY. UPON FORENSIC INVESTIGATION I FOUND A BALL POINT PEN LODGED IN THE TRAP SURROUNDED BY A WAD OF PAPER TOWEL. I HAVE SINCE BANNED ALL BALL POINT PENS FROM NEWRY BASE… AND I'M THINKING OF BANNING PAPER TOWELS
What's the coolest car you've ever owned?
I HAD A GOLD 1971 CHEVELLE "HEAVY CHEVY" COMPLETE WITH HOOD PINS AND RACING STRIPE BACK WHEN MUSCLE CARS WERE ALL THE NUTS. HAD HER UP TO 119 MPH UP TOWARD MILLINOCKET JUST BEFORE GETTING PULLED OVER BY THE LAW – BUT THAT'S ANOTHER STORY…
What is your favorite vacation destination?
WEST END IN TORTOLA, BRITISH VIRGIN ISLANDS – A LITTLE 8-ROOM INN CALLED THE JOLLY RODGER AND UP OVER THE HILL TO THE BOMBA SHACK ON THE NORTH SHORE OVERLOOKING JOST VAN DYKE FOR DRINKS AND "FULL-MOON" PUNCH
How do you cook a really amazing steak?
THIS IS IT, AND I'M NOT KIDDING YOU – SLAP THOSE NICE ROOM TEMPERATURE BONELESS STRIP STEAKS RIGHT ONTO THE COALS (NATURAL CHARCOAL, NOT BRIQUETTES) MAYBE 4 MINUTES ON A SIDE. DUST OFF AS MUCH ASH AS YOU LIKE AND ENJOY THOSE BEAUTIFULLY SEARED SLABS O' BEEF.