What is your role at HIOBS?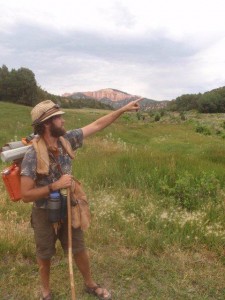 My role here at HIOBS is to serve as the Head Logistics Coordinator for the land programs base that operates out of Newry, Maine.  Basically, it is my job to ensure that all of the instructors have the tools and support that they need in the field, and while on base, to serve our students.  My staff and I make sure that everyone has the food and equipment that they need, and plenty of brownies to help the soul after some of those rainy days!
Why did you choose a career in outdoor education?I chose a career in outdoor education after realizing that this field allows me to have the type of life experiences that I want to have to be a happy person.  I have been in outdoor education for about 12 years now, and I have been fortunate to serve many different organizations while working hard to receive my PhD, two Masters degrees, and a Bachelors degree in outdoor education or an related field.  Outdoor education allows me to turn my passions into paychecks, and meet people everyday that inspire me to go further and higher that I could ever do without this community.
How did you end up working for HIOBS?
For about the past ten years I have been teaching outdoor education in some respect at the higher education level.  In almost all of those courses I have talked about the history, philosophy, and impact of Outward Bound.  While working on my PhD at Ohio University, I had the great opportunity to work and teach with another HIOBS instructor Judd Walker.  I was looking for an opportunity to expand my skill set and Judd had recommended that I look at the Head Logistics Coordinator position for HIOBS.  After looking at the opportunity to join an organization that I more than respect I was honored to serve in this position.
What is your favorite thing about working for HIOBS?
My favorite thing about for HIOBS is the great and extensive community that I have been welcomed to.  Being part of Outward Bound is being part of a community that is much larger than yourself, many other programs, or even an university.  The people that are a part of the HIOBS and greater Outward Bound community embody what it means to be a leader in outdoor education and truly serve those they work with and lead.
What is your favorite HIOBS memory?
Some of my favorite memories at HIOBS have been from my working with the rest of the logistics staff, especially when it is at the end of a long day or, really, any time we are all in the kitchen.  There are few people that would be able to work so hard and efficiently under the types of pressure that we need to operate and still have a great sense of humor and work ethic.  From hearing stories of Miss Lia's childhood to almost hitting a Moose on a late night resupply with Abby we have had some pretty amazing times!
If you had to sum up HIOBS in one word…
If I had to sum up HIOBS in one word it would be: Passionate
What is something people don't know about you?
One thing that many people may not know about me is that one of my true passions is working with my favorite animal, sharks!  In my off time, I can be found on the remote beaches of Florida and North Carolina tagging and releasing sharks.  They are all caught from the beach and all released.  They truly are amazing animals and having a moment to interact with them while collecting data that could potentially help us to understand and protect them is really awesome!