In our monthly "Dear John" post, our lovable, curmudgeonly John McBride, Director of Fleet &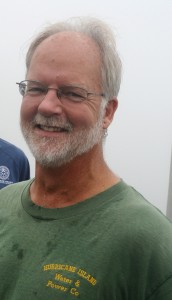 Facilities, answers your burning questions
How was this year's Annual General Meeting? Any logistical challenges?
THE AGM IN NEWRY WAS FRIGGIN FANTASTIC. IT WAS GREAT TO CATCH UP WITH THE BOARD AND MOUNTAIN STAFF, THE CATERED FOOD WAS GREAT, AND THE ROAST PIG WAS WAYYYY BEYOND DELICIOUS. THE ONLY LOGISTICAL CHALLENGE FOR ME WAS TRYING TO FIT 3 PLATEFULS OF ROAST PORK INTO A STOMACH DESIGNED FOR HALF OF THAT…

Looking back on the summer – what was your favorite HIOBS memory?
NO TIME TO LOOK BACK – WAY TOO MUCH SITTING JUST AHEAD. WHAT'S DONE IS DONE.

What are you going to do with yourself now that all the summer program students are gone? DO YOU MEAN AFTER WE HAUL, DOWN-RIG, COVER AND STORE 12 BOATS, CLOSE 3 PROGRAM BASES, PUMP 60 GALLONS OF ANTIFREEZE THRU THE WATER SYSTEMS, SHUTTLE 6 VEHICLES FROM NEWRY TO WHEELER BAY, DRAG 12 FLOATS OUT OF THE SALT WATER, PREP 5 BOATS FOR TRANSPORT TO FLORIDA, MOVE 3 MORE BOATS INTO THE SHOP FOR WINTER MAINTENANCE, AND FIX THE SNOWPLOW AHEAD OF THE FIRST SNOWFALL? TILL THEN I'M JUST CHILLIN…
What do you think is the most addictive video or board game?
REALLY, WHO HAS TIME TO PLAY VIDEO GAMES? I WAS AROUND WHEN "PONG" CAME OUT, PLAYED A FAIR BIT OF "PAC-MAN" BUT HAVE ZERO INTEREST IN "GRAND THEFT AUTO" OR "CALL OF DUTY". AS FAR AS BOARD GAMES – IF IT AIN'T "RISK" IT AIN'T HAPPENING.
If you could build a HIOBS program for any age group that currently doesn't exist, what would it be?
I'LL LEAVE THE PROGRAM BUILDING TO PROFESSIONALS – I'LL JUST KEEP FIXING THE STUFF THAT BREAKS.
What was your favorite childhood toy?
ORIGINAL STRENGTH M-80'S
What is the most hideous article of clothing you own?
CAPTAIN JOHN DOES NOT DO HIDEOUS.