In our monthly "Dear John" post, our lovable, curmudgeonly John McBride, Director of Fleet &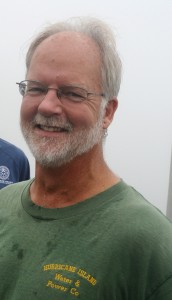 Facilities, answers your burning questions
Who is the best James Bond?
AS MUCH AS I LOVE SEAN CONNERY, I THINK DANIEL CRAIG HAS TO GET MY VOTE.
Favorite winter sport to participate or watch?
WHO HAS THE FRIGGIN TIME TO WATCH OTHER PEOPLE PLAY SPORTS? WHEN I GET A CHANCE, I HIT THE SLOPES – CAN'T BEAT SUNDAY RIVER ON A BLUEBIRD FEBRUARY AFTERNOON.
Do you sing in the car?
WHO THE HELL RATTED ME OUT ON THAT? EACH ROUND-TRIP TO FLORIDA HAULING BOATS IS 72 HOURS OF TRUCK TIME (3 THIS FALL). SINGING HELPS ME FROM SCREAMING AT ALL THE @$$#*!#$ ON THE ROAD.
What occupation were you interested in as a kid?
PIRATE
What did you get the wifey for Valentine's Day?
PLEASE GIVE ME MORE ADVANCED WARNING ABOUT THESE HOLIDAY THINGS. I GUESS I'M GIVING HER (AGAIN) A BIG IOU…
What are you up to this time of year?
I'VE GOT 2 PULLING BOATS IN THE SHOP GETTING FAIRLY EXTENSIVE TLC. I'M RENEWING MY COAST GUARD LICENSE AND TRYING HARD TO GET ALL MY FILES AND PAPERWORK IN ORDER FOR THE COMING SEASON.
What's the ultimate measure of a boathouse man?
YA GOTTA BE HARD AS STAINLESS YET SOFT AS PUTTY, COARSE AS 40 GRIT YET SMOOTH AS GOOD RUM, BOLD AS BLACKBEARD YET CAREFUL AS SHACKLETON – IT'S A HELLUVA JOB…
How have you changed in the past 25 years?
I'M TWICE THE MAN WITH HALF THE ENERGY.
Where would you bury hidden treasure if you had some?
LIKE I'M GOING TO TELL YOU WHERE I HID THE LOOT. NICE TRY THOUGH…