In our monthly "Dear John" post, our lovable, curmudgeonly John McBride, Director of Fleet &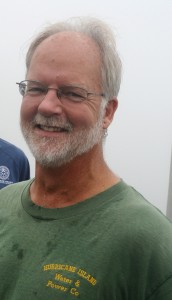 Facilities, answers your burning questions.
What's the best way to keep the bugs away?
THIS IS COOL SO PAY ATTENTION. FOR BLACK FLIES, COAT A HARDHAT WITH CHAINSAW BAR & CHAIN OIL. THE FLIES WILL STICK BY THE DOZENS. FOR DEER FLIES, COAT A BLUE BALL CAP (OR HARDHAT) WITH "TREE TANGLEFOOT" AND THE FLIES WILL STICK LIKE CRAZY. HORSE FLIES ARE SLOW ENOUGH TO BE SWATTED AND MOSQUITOES CAN BE KEPT AT BAY WITH "DEEP WOODS OFF"
How many pairs of underwear does someone really need for a three week course?
WHY WOULD YOU NEED TO WEAR ANY UNDERWEAR ON COURSE?
Funniest thing heard around base so far this year?
I CAUGHT ERIC DENNY EXPERTLY USING A BATTERY-POWERED DRILL THIS SPRING. I SAID, "I COULD USE A GUY WITH YOUR SKILLS IN THE BOATHOUSE". WITHOUT MISSING A BEAT HE REPLIED, "I'M NOT OLD ENOUGH TO WORK IN THE BOATHOUSE". OUCH…
What is your spirit animal?
THE BALD EAGLE – A MONOGAMOUS SOLO FLYER ADRIFT ON HIGH AND KEEPING A CLOSE EYE ON THINGS FROM 1000 FEET UP, BUT ABLE TO SWOOP IN FOR THE KILL AS NECESSARY.
Have you ever been in a hurricane?
I RODE OUT A HURRICANE ON THE SCHOONER MERCANTILE IN CAMDEN HARBOR AROUND 1991. I RODE OUT A HURRICANE ON THE SCHOONER ROSEWAY IN NEWPORT HARBOR AROUND 1992. AND I RODE OUT A HURRICANE ON THE VIGILANT IN LONG COVE IN 1996. I ALSO WORKED ON REPAIRING BLACKBEARDS CASTLE HOTEL IN ST. THOMAS AFTER HURRICANE HUGO IN 1989. THAT'S ALL I NEED OF THAT FUN.
What do you see when you look in the mirror?
I SEE THE WEARY MOUE OF A MAN WHO HAS HAD THE GOOD FORTUNE OF A LIFETIME OF OPPORTUNITY AND ADVENTURE. AND BECAUSE I HAVE FOUND BOTH A PLACE AND A PURPOSE AT OUTWARD BOUND, I CAN WINK AND NOD AT THAT SAME GUY EACH MORNING AS I GET READY TO HAVE AT IT ONCE AGAIN…