One of our favorite people is celebrating 41 years as an Outward Bound instructor. We asked Peals to share some insights about her career with HIOBS.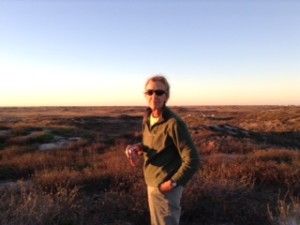 When and why did you start working at HIOBS?
I first started working for HIOBS in 1977. I took a course in 1976 and loved it, loved the adventure, my watch, the long days and short nights, singing while rowing, sailing along by Wooden Ball and 2 whales cruising the other way between our boats, cold water and hot drinks, the laughing. My instructor, Peter Coburn, told me I should think about working here. I was dumbfounded and thrilled. It has been a terrific job. I am a lucky girl.
Where is your favorite place to sail?
I love sailing in the Florida keys. Often there is more wind in Florida in the winter than in Maine in the summer, so it is possible to go far and to get back in time for course end, but you may have to sail through the night. Crossing Florida Bay is spectacular, a 30 mile crossing out of sight of land, coming up on Cape Sable, the SW corner of Florida, a 10 mile beach on the edge of the Everglades. Another terrific adventure is wading up the creek at Snipe Point holding hands, climbing over or diving under mangrove roots, winding up in a stinky mud hole where you sink in up to your waist, which is conducive to a mud fight, thrash through the mangroves to the beach and ri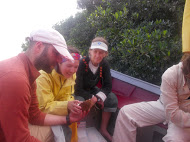 nse off in the Gulf of Mexico. I've taught courses in the keys for high schoolers, college students, vets, and one of my favorite groups, women over 30.
What has kept you at HIOBS for these years?
As Bob Rheault said, it's all about the love. For me, it's been the love of living outside, dealing with all kinds of weather, having adventures, but mostly about the love for the people, the camaraderie among your students and fellow staff. It's been grand.