In our monthly "Dear John" post, our lovable, curmudgeonly John McBride, Director of Fleet &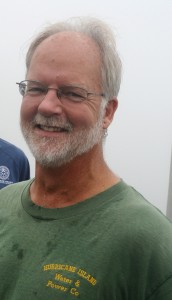 Facilities, answers your burning questions.
What is the scariest Halloween decor you've ever seen?
UP AT THE OLD STONE FORT KNOX ON THE PENOBSCOT RIVER NEAR BUCKSPORT, MAINE THEY DO "FRIGHT NIGHT AT THE FORT" EVERY YEAR – IT IS THE BEST VENUE FOR A GOOD SPOOKING THAT I HAVE EVER SEEN.
Have you ever been so scared that you peed your pants?
WHEN I WAS 8, A FRIEND AND I SNUCK INTO A NEW HOUSE UNDER CONSTRUCTION AND AS WE CAME AROUND THE CORNER WE RAN SMACK INTO 2 COPS. THERE, I SAID IT…
Any good stories from the 2016 AGM? WELL, THE LOCATION COULDN'T BE BEAT – WHY WOULD WE EVER GO ANYWHERE ELSE? MY HIGHLIGHT WAS THE AWESOME FIREWORKS DISPLAY WITH THE ROARING APPROVAL OF THE BOATLOAD OF SKINNY-DIPPING FIELD STAFF NEARBY.
What Peanuts gang character do you most identify with and why? ACTUALLY, AS I THINK ABOUT IT, I AM A PERFECT MASH-UP OF LUCY, PIGPEN, AND SCHROEDER. I'LL LET YOU FIGURE OUT THE WHY.
Do you have any lucky objects you keep with you? IF I TOLD YOU, THEY WOULDN'T BE LUCKY ANYMORE…
What should my baby go dressed as for Halloween? REMEMBER THE MOVIE "ROSEMARY'S BABY", THAT CHILD WAS KINDA SCARY.
Where is the best place in Maine to take in the fall foliage?
ANYWHERE – YOU CAN'T GO WRONG. BUT MY FAVORITE IS DRIVING NEAR LAKES OR PONDS EARLY OR LATE IN THE DAY WITH THE GOLDEN SUNLIGHT REFLECTING THE COLORS OFF THE WATER – BEAUTY DEEP ENOUGH TO MAKE ME WEEP.