Written by Tim Barker, HIOBS Operations Director
We had some amazing plans for staff training in 2020, prior to the disruption caused by the COVID-19 pandemic. The program leadership team here at HIOBS had a vision, and this year was going to be THE year for innovation in curriculum and assessment. In my opinion, the training opportunities we were making available were the strongest and most diverse in recent history. We'd identified specific deficits from years past, and were focused on providing opportunities for skill development for our staff that would create the backbone for increased program support and efficiency. Opportunities for skill development and assessment ranged from technical whitewater canoeing field trainings to development workshops with a focus on Equity and Inclusion. The diversity of training opportunities created a very real sense of excitement and anticipation for the year ahead.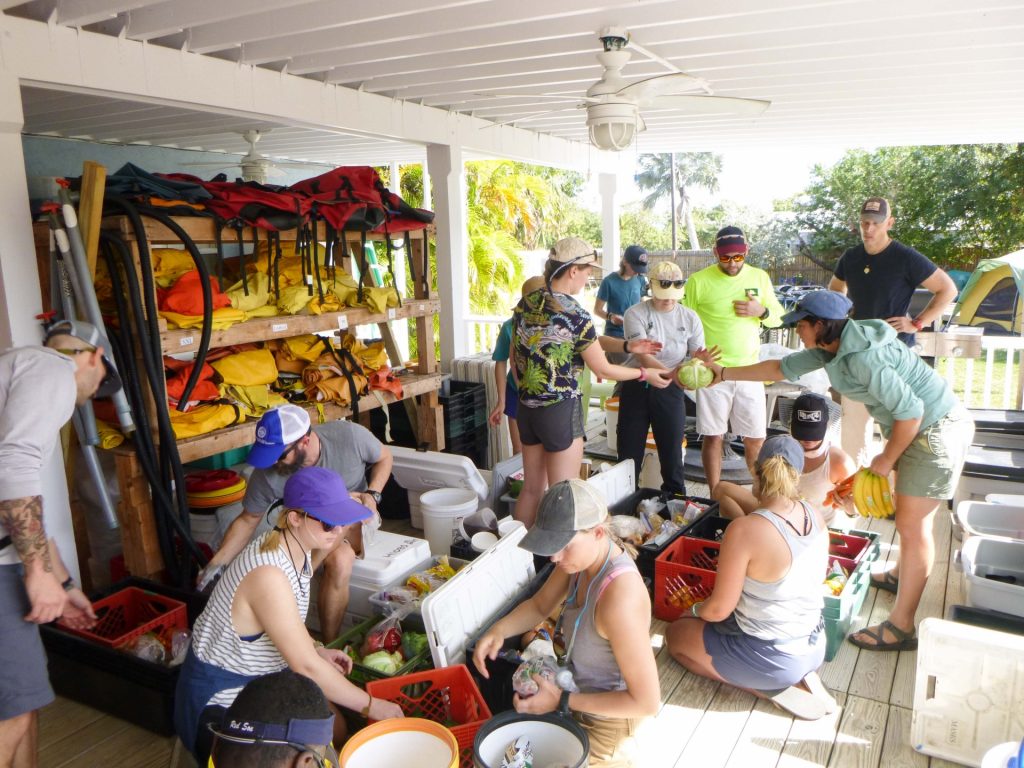 After conducting our Florida Sea Staff Training, which felt both forward-thinking and inspiring, we were forced into an operational hiatus.  The rapid onset of the COVID-19, in both the US and our international locations, shifted our focus toward the health and safety of students and staff living and working in the field.  Over the course of the following months, into spring and summer, the school downsized its operations and administration and began to focus on conserving its resources. The logistics of resuming programming presented obstacles that challenged both the risk-tolerance of the school and its governance.
Fall of 2020 finally signalled the first opportunity for us to get back into the field. We knew we had a lot of learning to do – and were motivated to get out there and test a number of new systems, assumptions, and fears that we had been talking about for months: Is Outward Bound relevant? Can we still create a positive and impactful student experience? Are we equipped to mitigate the risks associated with an aerated virus in the field? How will we do this? Are we really as resilient as we think we are?
The answer is YES on all fronts – we are more resilient and more determined than ever.  Outward Bound – and its teachings, practices, and community benefit – are more relevant and potentially more impactful than ever before.  And, perhaps surprisingly, what we do in the field – the work and practices we excel at – has experienced little change despite a continued global pandemic.
Ultimately, when you look at programming at the Hurricane Island Outward Bound School through the lens of a student nothing has obviously changed.  Yes – there is a period of physical distancing and masking.  Yes – we wash our hands and share less equipment than we have in the past…and Yes – it's still challenging! Despite these surface-level changes that impact our program and its design, we are still excellent at building relationships and community through the challenges created by nature and the wilderness.
As we look toward the winter season, and gear up for phase two of our most recent staff training cycle, the focus continues to be on the quality of the student experience.  Where can we simplify our programming to eliminate risks to the health and safety of the cohorts in the field?  What new tools, tips, and tricks do we need to discover to create community and a positive learning environment – despite the need to be physically distant during the first two weeks of a course?  How can we keep momentum in the work that has been done with the Outward Bound Professional Learning Lab through the use of the Domains of Thriving?  Where do we need to adapt our focus on equity and inclusion to meet our students' recent experiences?
Despite some parts of our programming looking and feeling different, the future for HIOBS looks very bright. Through the effort of our active field and support staff, we are continuing to engage students in long, challenging, and transformative wilderness experiences. We are persistent in our quest to learn, adapt, and better understand a new set of best practices that will guide our programming moving forward. This new age of programming requires our field practices to be as dynamic as the landscape in which we exist. Collaboration continues to be a driver for success – and continued consultation with other OB schools and like organizations is proving to be instrumental in triangulating success this winter.
After a long hiatus, we are on the cusp of serving our mission of challenge and discovery through unique, expeditionary semester courses.  We are needed and are committed to serve, to strive, and to never yield in our pursuit of transformative and impactful wilderness experiences. The lessons in resilience derived from a HIOBS course are well-suited to give our students the skills and determination needed to see through the continued challenges presented by this dynamic and prolonged global pandemic.