How Hurricane Island Outward Bound Changed My Life
Written by HIOBS Featured Alumn, Erin Fray Reid
HIOBS, 1979
Little did I know as I was stepping off the bus in Rockland ME that summer, my life was about to change – forever.  Loading up supplies and standard-issue waterproof duffels onto what looked to me like dinged up, weather-beaten, wooden rowboats with two mast poles poking up from in-between the thwarts, as if to impersonate a sailboat, I thought, Hmmm, sturdy yes, but livable? I found this hard to imagine. How could twelve people possibly fit – much less live! – on a 30 ft. pulling boat for an entire month?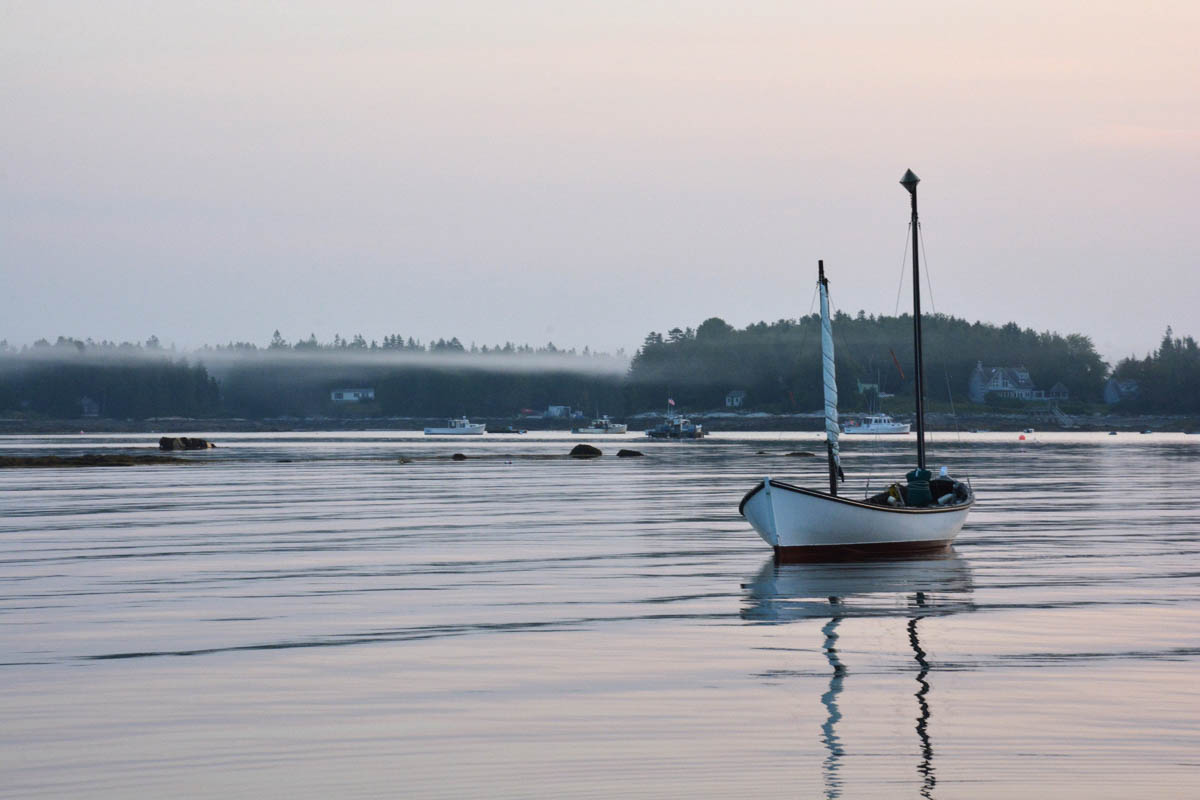 From the minute we set sail for the deeper waters of Penobscot Bay, tucked off the cold North Atlantic Ocean, my spirit awakened. Gusts of easterly winds blowing across the cloudless, summer sky, and the steady rush of swift currents following the incoming tide, carried me somewhere else. Without a word, what I had just moments ago, struggled to accept what I had perceived to be cramped confines, suddenly became as boundless as the Downeast sky and water.
Roots & Wings
Growing up in the Pacific Northwest, rowing or sailing anything that floated around the cold waters of Puget Sound, well-equipped me with enough seamanship skills to have earned the confidence of my fellow crew from the get-go. This nautical prowess hoisted the expectations others held of me, oblige me to step up as a courageous captain to lead, when called, at the age of 17.
Beyond the rising confidence and courageousness growing stronger within me, from having accepted the dare to lead, as needed, to safely navigate our course and crew through the archipelago, laid ahead a bigger challenge for me on this rugged expedition, that would prove to be far more consequential, in nature.
Nowhere to hide
As we sailed out across the inlet, somewhere between the islands of Vinalhaven and Isle Au Haut, a looming inescapableness quickly gave rise – from nonstop exposure to the harsh forces of nature and the unremitting consequences from shoulder-to-shoulder living – to weigh upon our abilities to cope. Our pulling boat had become a form of social crucible, fully capable of eroding one's patience to tolerate the incessant dynamics, that inevitably arise from constant interaction.
Coming face-to-face with one's limitations is never easy, no matter the circumstance. But this time, in the Outward Bound wilderness, there was nowhere to hide. So, with the strength of vital spirit, I rose to the opportunity, to bravely weather the requisite growing pains, leading to deeper understanding and capacity. I learned, for example, to let go of seeing the world through my eyes only, to cultivate acceptance, to recognize the good in people despite the foibles, how to skillfully give and receive feedback, and to earn the trust of others through example. Unbeknownst to me at the time, each of these hard-won lessons was instrumental in teaching me the fundamental qualities of Responsible Leadership: Objectivity, Inclusiveness, Compassion, Optimism, Trust and Honesty.
Reconciliation
Then came the solo. Dropped on the rocky beach of Little Spruce Island for three whole days and nights with just me, myself and I. I ate the date bars (one less thing to obsess about), harvested beach peas, made hot chocolate, sang to the sky, drank tea with the lobsters burrowing below, proclaimed my love to the trees, and sat quietly, before finding myself – once again – with nowhere to hide … and this time, from myself.
Coming out of a rough Spring that year, having landed myself in hot water, I was off keel from falling short of the high expectations set by others (and myself) and struggling with self-doubt.
Finding myself alone, in the safe harbor of Little Spruce, had allowed me the internal freedom to let go. My heart opened and I cried. Hard. Tears gave way to full-throated roars, releasing the repressed, forbidden emotions behind my public self: sadness, injustice, disappointment, loss, even the identity exhaustion of outward conformity.
Inner peace washed over me. It's as if this powerful lifegiving spirit touched me with love, to reconcile me to myself – a kind of radical acceptance of what is, and the already existence of my true nature.  Waking up to my authentic self, informing me about my values, gave me new insight to follow my passion and purpose to reach my full potential to be of service to others in this life.
Purpose
This insight offered me the clarity of vision and inspiration for my path forward the following year, to courageously dare a goal beyond my reach. I had come to trust in my potential, my athletic potential, to aim high and shoot for a spot on the United States Rowing Team. This rekindled an inner belief in myself, a singularity of purpose, strengthened my perseverance to earn gold, silver and bronze medals at National Rowing Competitions – AND to qualify for a seat on the United States Rowing Team to compete in the World Championships in the EU.
Impact
As I write this note, I am filled with gratitude.  My Outward Bound experience well exceeded any expectation I might have had at the outset. Its effects have proven to be far-reaching.  Like:
A deepened intimacy with the eternal landscape, Spirits rising,
Not to expect growth to be painless,
The nurturing power of introspection,
Recognizing me to myself,
Releasing me from self-doubt, expectations, opinions and fear of failure,
Learning to accept and use my power to do something I believe in and be something more than who I mean to be and can be,
How to link my passion with courage,
To live to the limit of being wholeheartedly, fiercely, fully alive.
Essentially, the experience reshaped me from the inside out.
Full Circle
I had witnessed first-hand what the celebrated American poet Rachel Field described of her mesmerizing experiences on the 'island-scattered coast' of Maine. The timeless words of her poem, written nearly 100 years ago, and memorized by me at age six on Orcas Island, WA, have come full circle – and continue to resonate today:  
"If Once You've Slept on an Island, You'll Never Be Quite the Same."
More about Erin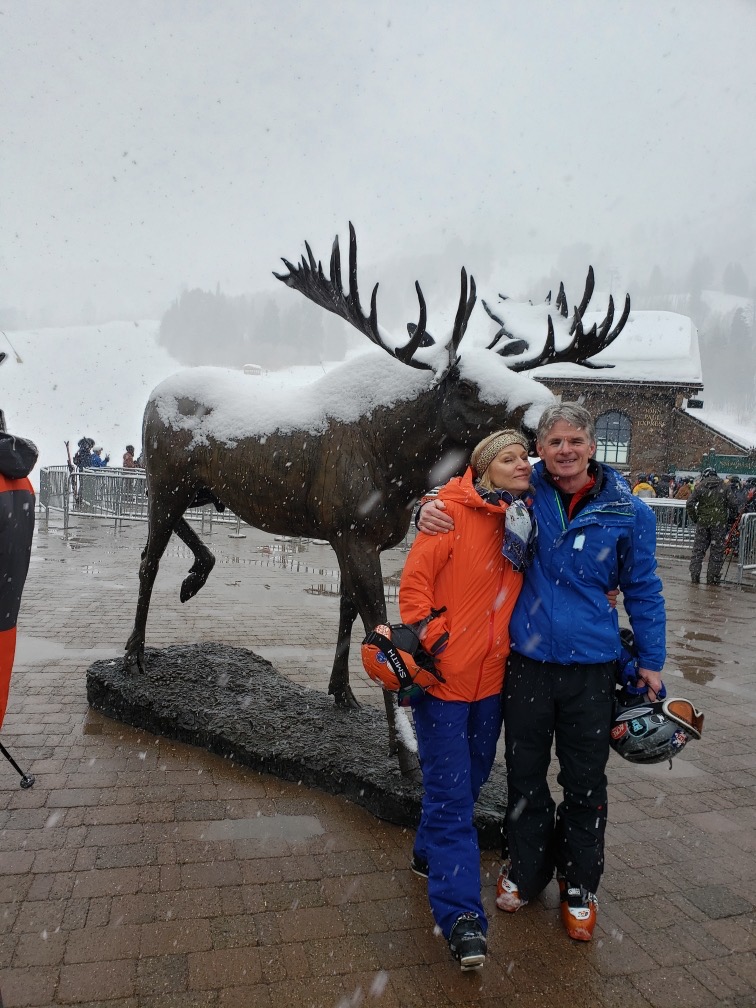 Erin Fray Reid lives in Seattle Washington with her husband Tom.
Her Outward Bound experience has proven invaluable to her professional endeavors as a social entrepreneur trailblazing purpose-driven for-profit companies serving Environmental, Food and Social Justice. She is currently President of Luminous Brands, Strategic Impact Consultancy.
Her love of wilderness and boats live on. When out of the office, you might catch a glance of her polar bearing, racing up a trail, dinking around on a boat or skiing steep powder anywhere possible across the Far West.