Written by McKenzie Kimball
2020 was the first summer in the past five years that I didn't spend the entire season primarily in a tent, on a boat, or in staff housing. My blonde hair is curiously dark, my skin is vitamin-D-deficient… but my reading book list is remarkably full. I am finally caught up on some of the pop culture references my university friends keep mentioning from popular Netflix and Hulu shows and I have delved deeply into cooking and music discovery, two of my favorite hobbies from when I was a college student.
Among all these changes, I keep finding odd habits I've picked up from my years working at Outward Bound now slipping into my non-expedition life.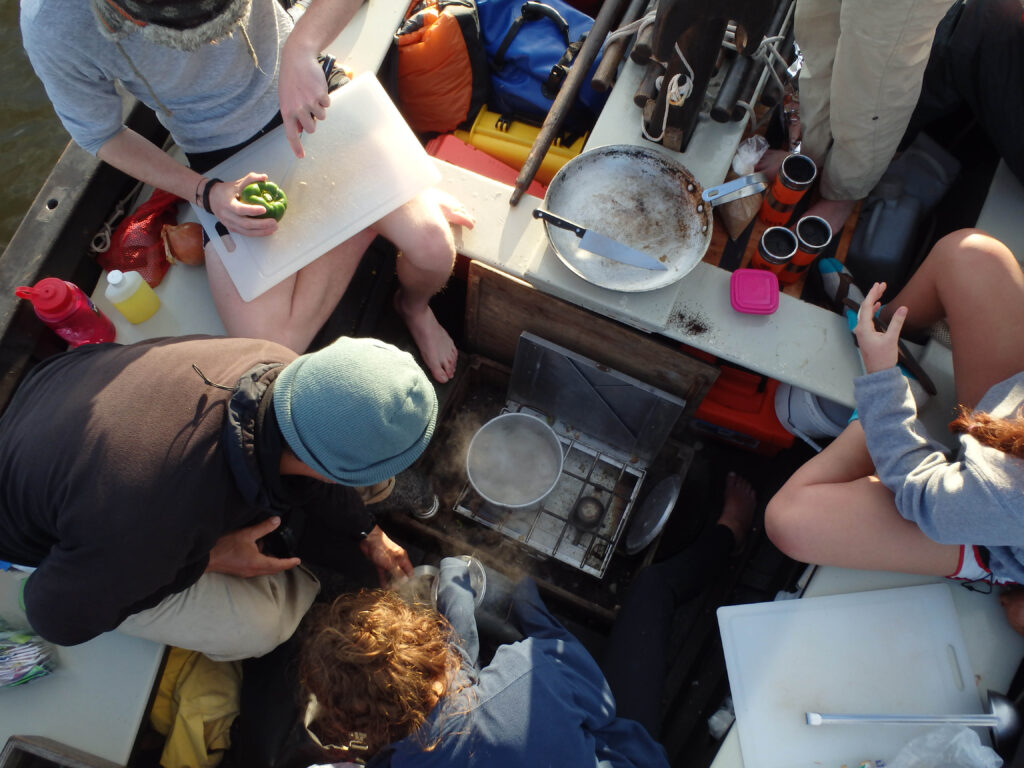 Like many people, my plans for 2020 changed drastically, and I found myself living with a variety of new and old friends. Turns out, the well-worn habits of living on a 30-foot sailing vessel or in staff cabins at Wheeler Bay have stuck with me – even while living with my parents and my young professional non-outdoorsy-educator friends – and I've begun to see some interesting patterns emerging in my behavior…
No food gets wasted: Rather than letting leftovers sit for a few days, I find myself eating them the next day. It's almost as though we don't have this amazing invention called a refrigerator – and instead are forced to try to beat the mid-day sun by eating any leftover mac and cheese before it warms it up. When I open the fridge to peruse food options, I inevitably end up checking the current quality of all the produce items, looking for what we need to eat first before it goes to waste – as leftover ingredients are unacceptable. I don't want to see anything get tossed into the compost bucket, even though I won't be carrying it with me for weeks!
When food is available: eat it, and eat it fast: Working on boats, this is common practice because you will need to have your hands available to do something else in no time. The idea of letting a tasty treat sit unmoved on the counter for a day or two (giving your roommates access to the goods) is uncanny. When that snack bag comes out, you'd better get your handful of snack mix immediately – or you might not get another chance until after you are anchored, and far beyond hungry.
Take care of your personal dish, then equitably share the community dishes: I may not be leaning over the gunwale of the boat washing my dish in the saltwater of the Atlantic Ocean, but I still take care of my personal dish right away after eating. I expect my crew-mates, and my housemates, to do the same. I also find myself washing dishes and utensils as I cook – much as we do at sea in order to make the cockpit an area that can be spacious enough for the crew to eat within it.
Trail mix ground-rules: No matter where, or with whom, the minute I see trail mix I feel the need to set the ground rules of etiquette that is common for expedition.

"no mining of the mix ": What kind of monster eats all the m&ms knowing that the whole crew is jonesing for some chocolate?
"pour out of the bag into your hand or make a mitt out of the bag to grab a handful": No way are you getting your grubby little paws all in that mix that we are all sharing for the next 20 days.

All hats and sunglasses should be lashed securely, to you: When I put a hat or sunglasses on, I habitually check to make sure that my sunglasses have their nifty seine twine keeper that loops through my hat and attaches to the closest piece of clothing – making sure I won't lose either of these essential items if/when the wind gusts. It seems I've forgotten that on land all I have to do is scuttle after my hat as it rolls away on the breeze and that I won't need to call for an impromptu "crew-overboard" drill that could take an hour of time and possibly result in the loss of a favorite, well-worn adventure hat!
Evening Meeting and Crystal Ball: After dinner has wrapped up and those that I'm living with are starting to amble off to bed, I have a need to check-in. I need to hear how the day went, to see if there is an issue we need to resolve, and to make a plan for tomorrow: where is everyone going, what's the plan for the day, do we need to make any preparations or wake up early for success? I feel restless and a lack of information until I have wrapped the day with some of the rituals of an evening meeting, and crystal ball… although nothing feels quite like that sleepy evening practice while on a gently rocking sailboat.
The lives we led before the pandemic are still shaping the way we take on each day and engage with the world. Life has changed and our futures are different than we expected ten months ago – yet the things that influence us persist. The habits that I find myself laughing at in my home kitchen, far from the Outward Bound sailing vessels I love, remind me of the community that I am a part of.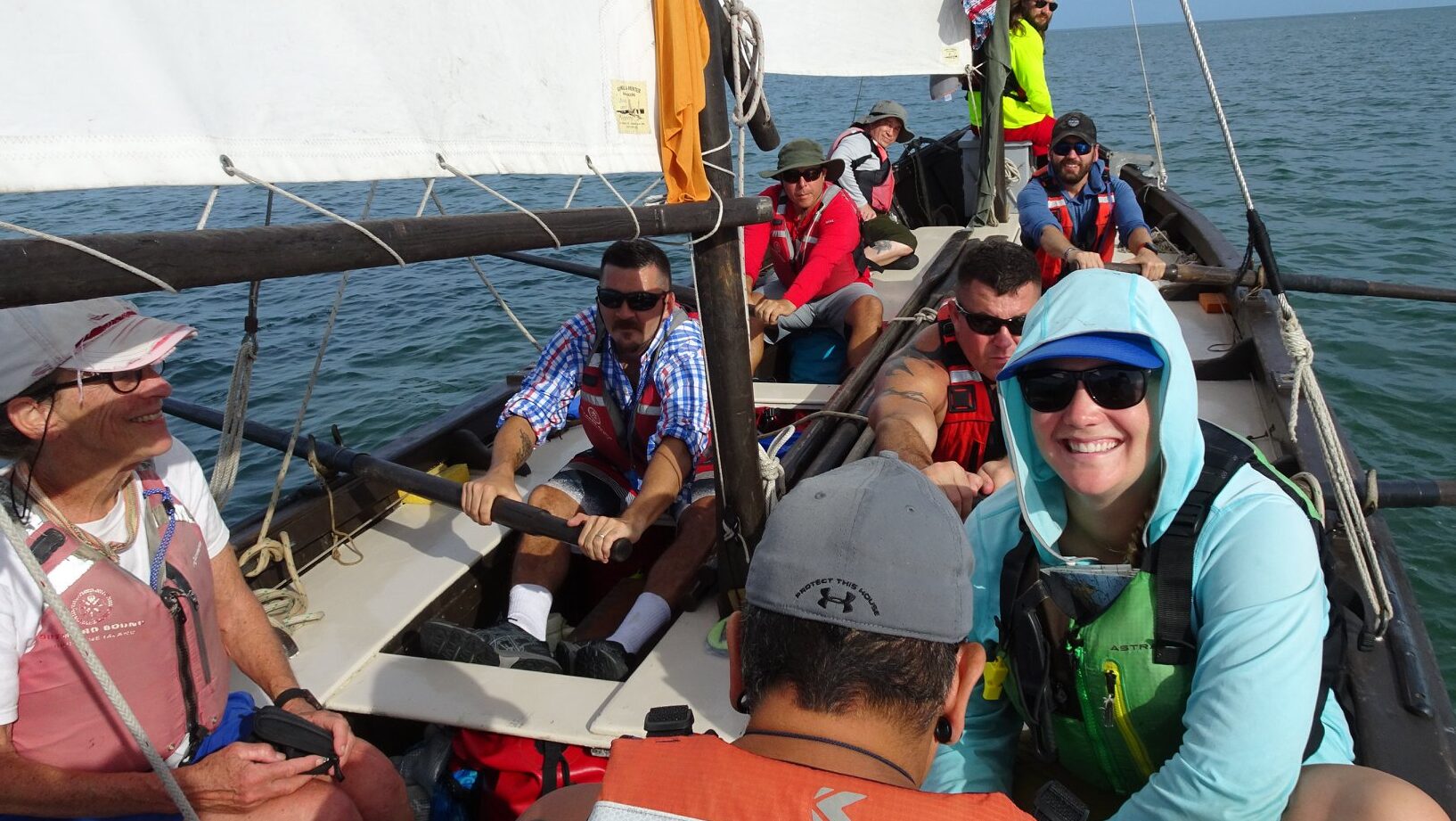 Whether you are respectfully snacking on every piece of trail mix or scavenging the leftovers of your fridge, I hope you are finding ways to connect to the communities that might be farther away than you are used to.  Life may look a little different these days, but it's always an adventure – just like being on an expedition with Outward Bound!
More about McKenzie
McKenzie grew up in landlocked western Colorado among the high desert canyons.  In 2017 she began her adventure at HIOBS in logistics and instructing in the sailing program.  Before Outward Bound, McKenzie was a university tour guide, Alaskan rafting and hiking guide, and oversnow coach driver in Yellowstone National Park.  When not at Outward Bound, she spends much of her time doing maintenance and sailing on the Camden windjammers.  Some of her hobbies are swimming in the cold water of Penobscot Bay, listening to Irish pub podcasts, making season-commemorating stickers, and stopping strangers on the street to pet their dogs.