Written by Jack Soley, former HIOBS Sea Kayaking & Sailing Instructor and current HIOBS Board Member
After an almost twenty-year hiatus, HIOBS is bringing back sea kayaking programs to the coast of Maine. Once a vital part of the school that filled the program board with multiple versions of these island-hopping courses, sea kayaking was phased out in the early 2000s. Enthusiasm for the sport has never waned in our area, however, and a large number of outfitters continue to paddle the Maine coast. Both extraordinarily seaworthy and able to convey their passengers to intimate settings unreachable by most larger craft, sea kayaking has remained an extremely popular sport both regionally, and internationally.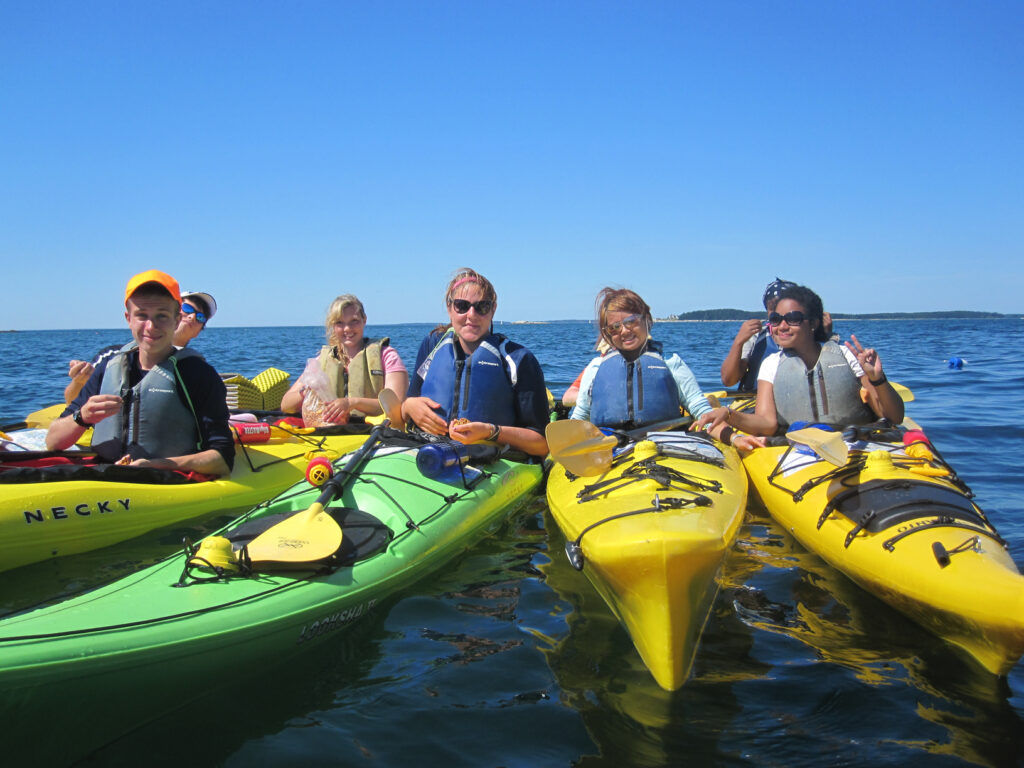 My personal journey with sea kayaking began as a teenager in Camden. Growing up in a decidedly land-based family that regarded the ocean more as a scenic backdrop, a Burnt Island sailing course introduced me to the adventures of island exploration. My fondest memory was being "castaway" on my Solo on a tiny island for three days which I shared only with a nesting Osprey!
After my course, I was determined to learn more of the skills of ocean travel, so I headed out to sea in a 16' long Klepper sea kayak– underprepared, and overconfident. Often aided by lobstermen and sailors, naiveté and sheer will (rarely a safe partnership) accompanied me on my trips. Fortunately, my seaworthy Klepper made up for my lack of navigation and paddling skills and I learned many great lessons. Touring the islands of Penobscot Bay literally changed my life, and redirected my "career plan" from a city based life in architecture to imagining a life in the back country.
The summer after my college graduation I immersed myself at HIOBS into a full season of trainings and course work. After a relatively short time teaching on the pulling boats and pursuing my captain's license, I longed to be back in a smaller craft where I would be closer to the water, and I would feel as if I were an integral part of the boat itself. Early explorers from the Western world, when encountering Greenlandic kayakers, first described the paddlers and their kayaks as centaur-like beasts, half boat-half man, because of the seamless connection between paddler and boat. I cherish the simplicity of form and high competency necessary to master piloting a kayak – it pares boating down to the absolute essentials for seafaring in a way that isn't possible when traveling in larger vessels.
Shortly after my OB career began in 1986, the fledgling sea kayaking program began to gain momentum with more staff being trained, and more courses being offered. Thanks to a tremendous amount of research, experience and groundwork from instructors such as Eric Buck creating protocols and guidelines, a safe and resilient program model had been established.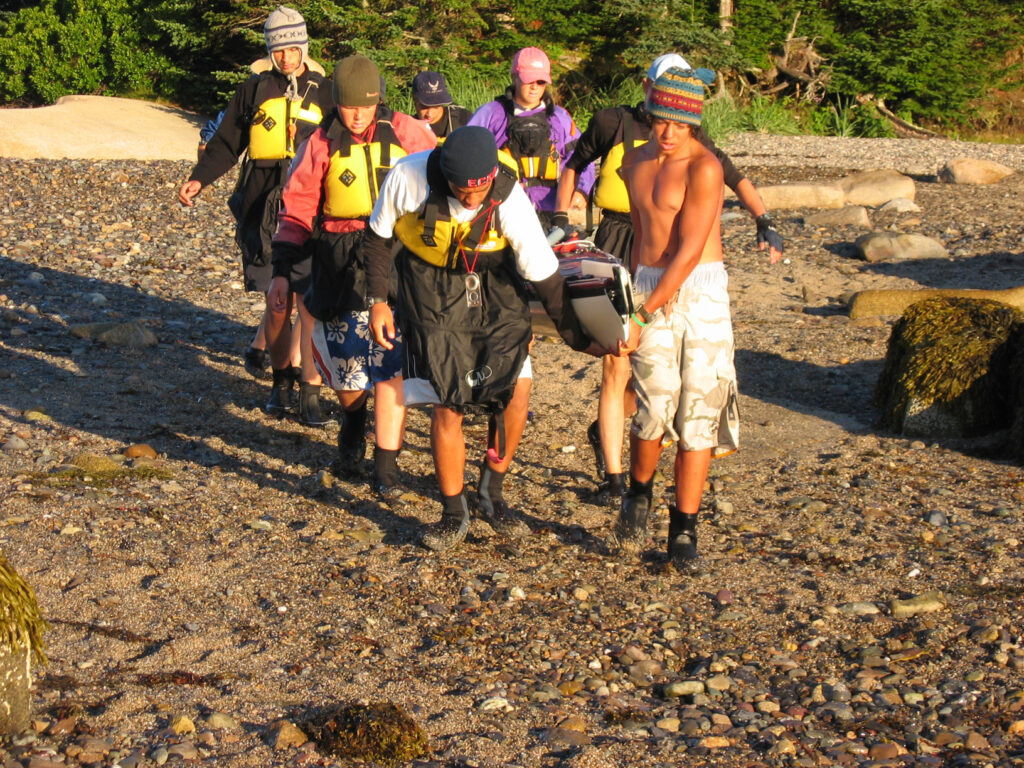 Throughout the late 80's and well into the late 90's, the kayak fleet grew and the instructor base flourished. Luke O'Neill, who still teaches sea kayaking courses with us in Panama as well as being one of our current key OBP Program Managers, joined us around that time – as did Caroline Blair-Smith who was a key member of the program for many years. Looking to expand our paddling ground and lengthen the season, we opened a winter base in Scottsmoor Florida, traveling the waters around Cape Canaveral and the Intracoastal Waterway. Unfortunately, the infamous Mosquito Lagoon proved too great a marketing challenge!
In 1999 I left HIOBS to focus on being home more to help raise my coming child, but I vowed to return and rekindle my involvement when timing and conditions allowed. Over the last twenty years I have enjoyed numerous paddling adventures in the subarctic and Antarctic, as well as my current backyard of Casco Bay with like-minded adventurers. As my daughter began to forge her own path, and my schedule became more flexible, it became clear that the time had come to find my way back to HIOBS – but I found my biggest hurdle to returning to the sea kayaking program was that it no longer existed! I longed to be back in the cockpit of a kayak on course, sharing the wonders of the sport to new students.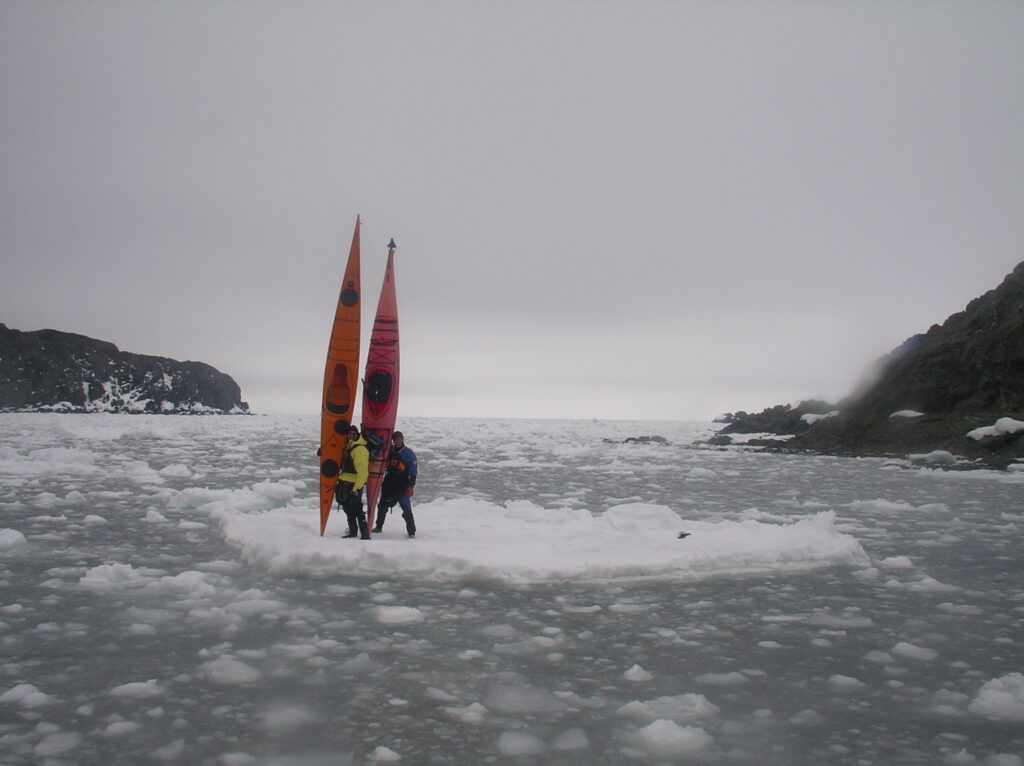 Thankfully now in 2021, with a break of almost twenty years with tremendous support from the school and a new fleet of high-performance touring boats, I am overjoyed to be part of a resurgence of sea kayaking programs at HIOBS. We are offering both an 8-day and 15-day course for teenagers, as well as a longer course mixing sea kayaking and sailing. I am excited to be involved in helping to re-establish these courses into the mix of programs offered by HIOBS, fulfilling my 20-year vow to both myself and the school to return and be part of the impact and legacy of HIOBS.