By Lori Sparrow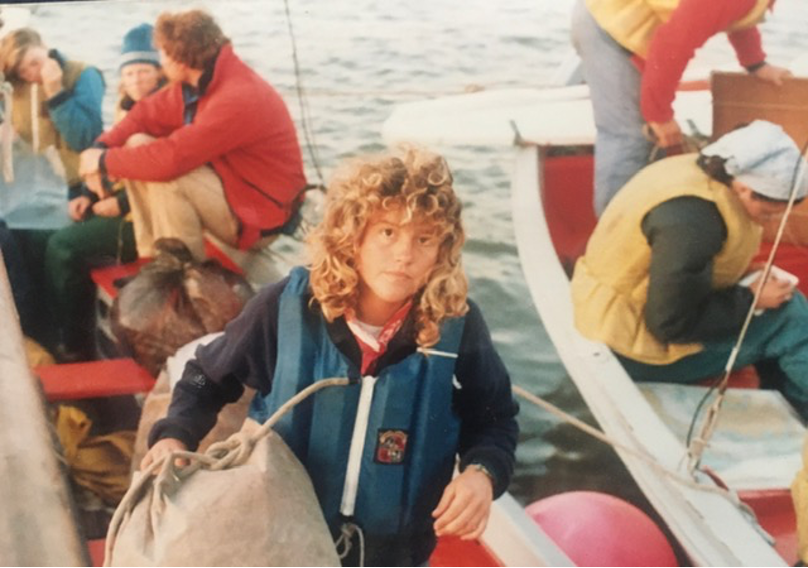 The navy blue fleece Patagonia jacket is peaking through my closet. No one knows except me the power the jacket holds. I will wear my Outward Bound jacket on a walk today by the ocean and remember my solo revelation that I want to make a difference and the power of authentically connecting with a crew of fellows.
On Hurricane Island, we started our day with a run and dip, breakfast in the lodge, clean up and then the morning meeting on the rock with the community—listening to inspirational readings, singing songs, and learning our schedule. We would never know what was in store for the day. At morning meeting we would find out. I lived in dread of the day that they would announce that we were going rock climbing. I have had a long- time fear of heights and the very thought terrified me.
The dreaded day arrived and we hiked to the site and were instructed to belay down—basically lean trustingly to back down a sheer cliff. The instructor asked "Who really doesn't want to do this?" I raised my hand high. He said "Good Lori, you are going to go first." What!!!? And then I did. I shook and cried and made it down with the help of my crew. At the bottom I cried and laughed and cheered for myself. I realized I could do so much more than I thought in my mind. Then I got to cheer on my mates. I have thought of that day many times over the years.
I learned sailing from Maine to Florida was that every emotion is ok. There is not a lot of room to hide on a pulling boat with 14 people side by side! Trying to put on a good face—well that just wasn't possible sometimes. It was okay to be annoyed, annoying, strong, weak, sad, frustrated, enthusiastic and joyful. And it was helpful to see other people go through it too and feel connected through our human weaknesses. Through the years I have been able to recreate different crews of trusted fellows and that willingness to belong on the hard days has made a huge impact on my life. To be honest, I don't always like all of my crew every day but I always love them and we are strong on different days.
It has been 35 years since my HSM-23 Hurricane Island semester course and it is hands down one of the most impactful things I have done. Real world challenges hit hard for me after my course. The resilience I obtained during my course helped me tremendously as well as calming my feralness of doing everything myself while appearing strong.
Today we get the gift of sending our adult daughters on their own OB adventures. We will get them jackets of their own. My jacket will remain with me as a reminder of what is possible when you meet the day with OB's "To serve to strive and not to yield" AND you don't need to do it alone.