By Fiona Hooper, AIR alum and HIOBS Council Co-Chair
---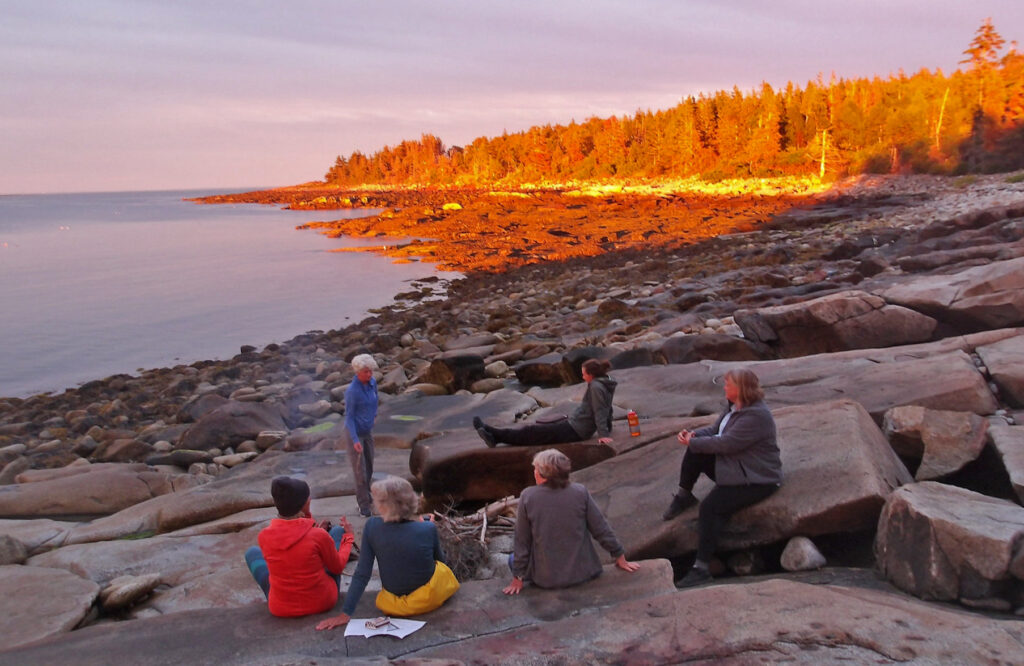 "There is no later, only now."
-Lilian Hellman
The adventurous women's expedition "To Burnt Island and Back" was an idea born of its time in 2018, out of curiosity and desire, and the determined wish of a few women, all of us at least 65 years old, whose paths had intersected at the Hurricane Island Outward Bound School (HIOBS) base in Wheeler Bay. Some were HIOBS "lifers"—former and current board and council members—but a few of us were newcomers who were inspired by the school's mission and its relationship to the magnificent sailing waters of Wheeler Bay and beyond. Living close by, we became deeply curious about the expeditions we observed in preparation at the base, and sometimes the joyful whoops of students in the distance seemed like a siren song.
The act of defining our expedition by gender and age was a bold one, but it proved visionary. It cleared the decks for women like me in their late 60s, 70s, and 80s to imagine setting sail in a pulling boat and learning to sail with only other women of a similar age. We would not be delaying anyone, and we would not be in the way of faster, younger hands. We would be setting our own pace, at liberty to imagine our own best ways of doing things according to our strengths, and free to express our choices and avoid discomfort. We would learn skills—making knots for different purposes, understanding basic navigation and the ingenious ways HIOBS pulling boats harness the wind, and using the tides and currents to sail with only human power and intelligence. We'd learn to read the wind by the sails. We'd learn new meanings for words we have lived by: shroud and tell-tale, set and drift, triangulation, bearings, headings, and soundings. We'd adhere to core HIOBS principles of safety, teamwork, and compassion, and draw on our decades of experience of work and love to discover new ways of collaborating and connecting with other women.
Most women know we have survived through our ability to forge relationships with other women—mothers, grandmothers, daughters, sisters, friends, and the women of all ages we meet and find connection with. They have strengthened us with their practical values of survival and insistence on our buried strengths. Now we would take up their incitements to seek further horizons, and we'd deepen our relationships to the creatures and songs of the wide, cold blue waters and outlying islands of Penobscot Bay where we were, in a radical sense, coming home.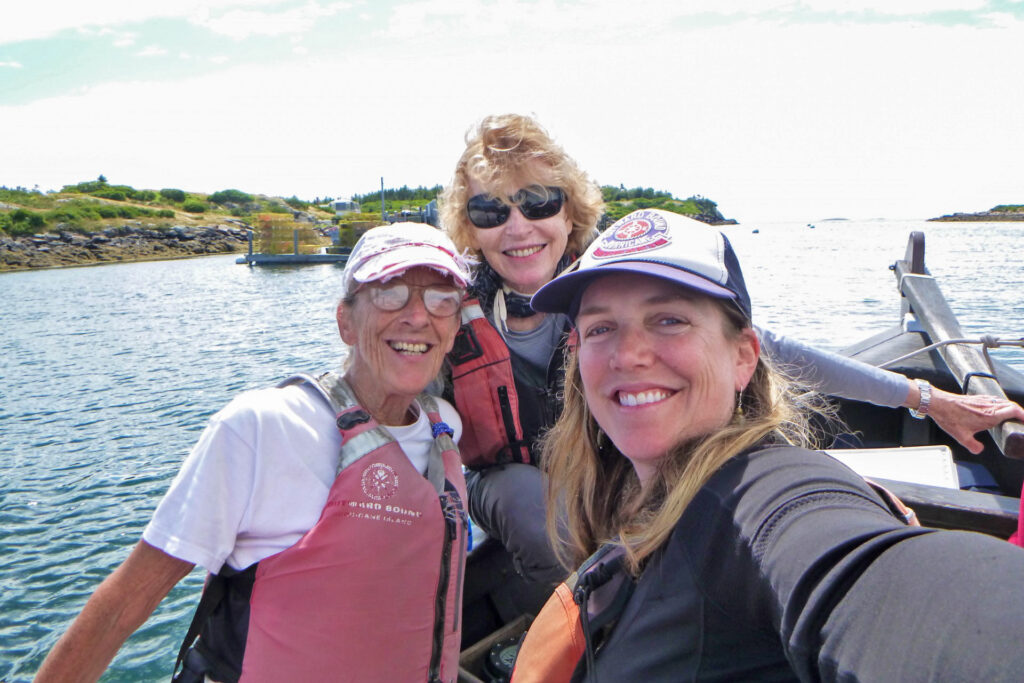 With the support of the HIOBS administrative team and former Development Director Julia Maher, we put together the first expedition "To Burnt and Back." For instructors, we had Peals Wrobel (in her seventh decade and faded jeans), a veteran of over 40 years of instructing in the field, and the strong and skilled Julia Carleton. Together their combined experience in the field, qualities of gentleness, humor, wisdom, physical strength, and sheer competence gave form to the notion that "Angels are ships."
Of the nine original participants, all had links with HIOBS—three were alumna, one a former HIOBS office staff member who'd never sailed before, and others came on trust, by word of mouth. We met briefly for orientation, grabbed gear from the pier building attic, stuffed our bags, joyfully abandoned our cellphones and hair driers in the locker room, and set out to sea in Vigilant, with the pulling boat Phebe in tow.
Burnt Island lies 9 nautical miles southwest of Wheeler Bay—its rocky meadows, high cliffs, and dark forests rising out of the deep protected waters that lie between its shores and its larger neighbor to the east, Allen Island. Formerly the home of Betsey Wyeth, Allen is a place of open grassy meadows and sun-bleached barrens where over her lifetime Betsey created an arrangement of impeccably restored old island buildings, a work of land art rarely seen by anyone except sailors and lobstermen, historians, and some students at Colby College. From Burnt Island, we looked across the water towards Allen, and imagined the life of this intrepid woman, who faced adversity with her land and structures of ineffable grace and beauty. Circumnavigating these islands in dazzling sunlight on wide blue waters is also an act of gratitude: it was Betsey's gift to HIOBS that ensured the school a place on Burnt Island in perpetuity.
Once on Burnt, we made up our narrow beds in the cabin that was our dormitory. We brushed our teeth on the grass in star-drenched late summer nights. At dawn, we rose and pulled damp swimsuits onto our aching bodies and went down to the beach to swim, wash, and release our dreams to the embrace of the clear, cold seawater. We hauled our own gear, carried buckets of food and cans of water, and learned the efficiency of staging and human chains from boat to dock to cabin and from there to the rock-lined bay where we ate all our meals. We learned to count off each other to make sure we always knew where everyone was. We shared lotions and pens, carried heavy things to save others, walked or ran together to stretch our legs, and waited for friends to catch up with us on stony, sometimes boggy paths.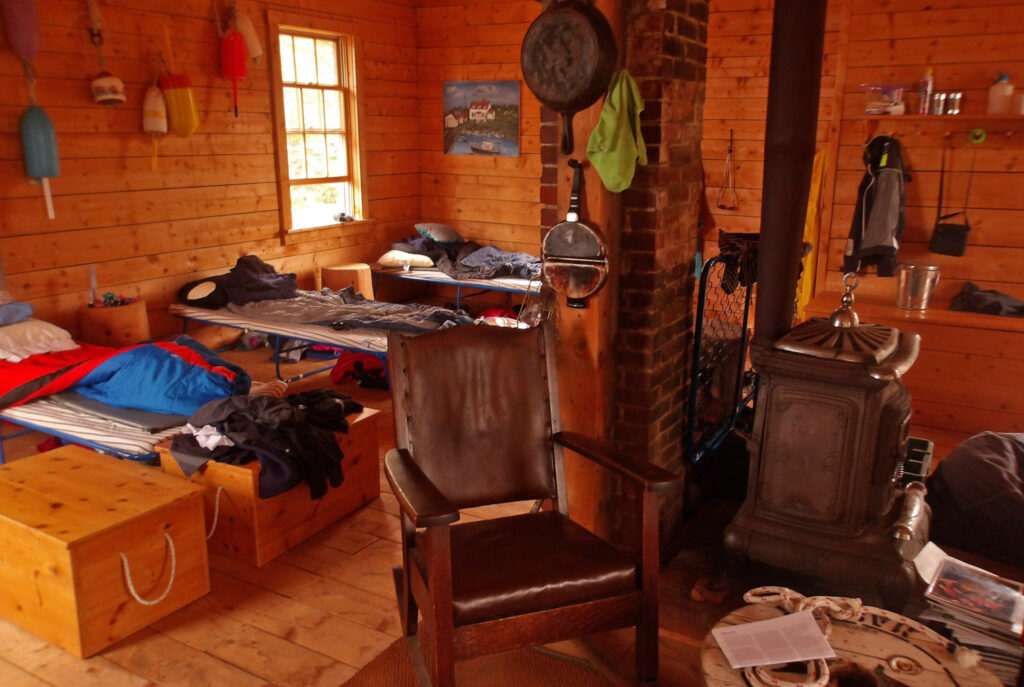 Sometimes I found myself alone (albeit never very far from anywhere or anyone), usually because I'd forgotten something or missed a turn in the dark. Then the immensity of what we were doing out on this huge, wild island with its old quarries, dark forests, and sheer ocean cliffs would suddenly press in on me. I would stand still, listening, peering into the darkness, trying to discern the intensity of presence I was feeling: what was out there? My dreams were there, somewhere in the breathing dark, and the dreams of others. Memories of my childhood in the mountains and along the beaches in South Africa would come back to me, like treasures.
I am a person who often gets lost, and GPS only marginally helps the situation. At times this has caused me considerable distress and anxiety. But on Burnt Island, a landscape of interior depth and scale and outer immensities, I began to think differently about it. "Lost?" Peals said to me when I mentioned it to her, "Oh, I often get lost." We were walking in single file through the dark green light of the woods, up steep inclines and across wooden beams laid over marshy bogs. A few others joined the conversation. We all had stories of being lost, and some were real adventures. But amid the terrors, there were, I realized, also pleasures, other ways of thinking about my experiences. I listened to Peals' accounts of being lost in fog and losing trails for many hours and realized that being lost is most of the time about living with uncertainty. Later I read Rebecca Solnit's beautiful treatise on the subject, and her notion that being lost is a way of "striking a truce with the wide world." I began to think of being lost as my ongoing act of truce-making with the wide world that I so love. Solnit proposes the possibility that "in relinquishing certainty, we approach, if only fleetingly, the divine." Perhaps my moments of being lost on Burnt Island, relinquishing my need for certainty, albeit only briefly, were intimations of the divine?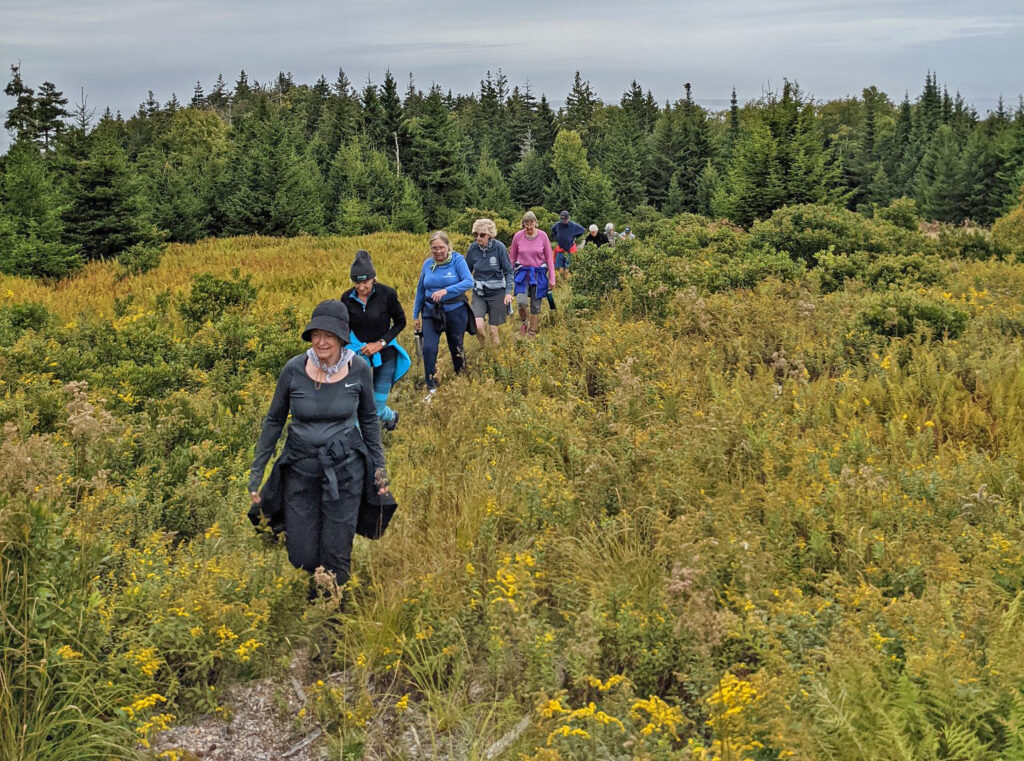 "Life," write James and Kay Salter in their memoir of a lifetime of cooking, hosting, and writing, "is many things, and among the best of them, it is meals." So it is on expedition. We looked forward intensely to our meals, sitting out on smooth rocks overlooking a crescent bay. On a large flat granite rock, we set a cumbersome, wooden-boxed, two-ring burner, and whoever was on cooking watch would read the recipes provided by the base crew along with cans of beans, tomatoes, and carefully measured quantities of potatoes, onions, carrots, cabbage, apples, and bags of rice. The spice bucket quickly achieved hallowed status, and Peals's coffee—made in a battered aluminum pot kept in the staff cabin—became the new G and T. Working on watches insists that one does set tasks at set times, and no more. For many of us, to sit chatting on the rocks at dusk while others cooked dinner was a novel experience.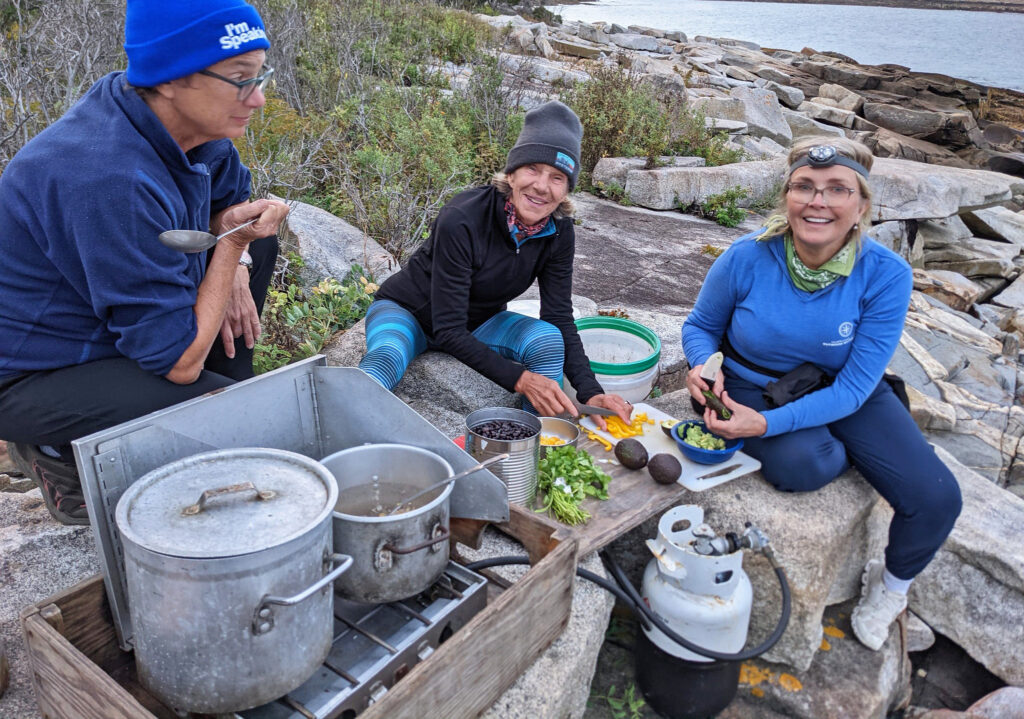 Ginny Corsi, our teammate with her partner Mary in 2021, gets the last word. Here's what Ginny wrote to her HIOBS adventurous women friends a few days after our course ended in 2021:
"Hi recently recharged women,

When I look at platters of every variety of food, I think about how happy I was with slices of cabbage disguised as lettuce. All the times I've been on a HIOBS invitational, I never talked about how wondrous it was. It's such a gift to sit with Mary, roll our eyes, sigh, and say things like, 'remember when the tide suddenly started rolling in and we grabbed our artwork and thought we were running for our lives to get off the spit?!'  '…the view from our rocks dining table' '…the still of the night when we quietly stole out for that 2am whiz in the weeds?' 

Wonderful memories. Think of you all often, and Burnt Island, with a yearning."
The following quote by Lilian Hellman is given to us every year at the end of our course by Peals, something she has lived by and that holds special meaning for all of us. The full quote' as relayed to us by Peals, is:
"There is no later, there is only now.
So, stop saving things for later. Do it now."
---
POSTSCRIPT: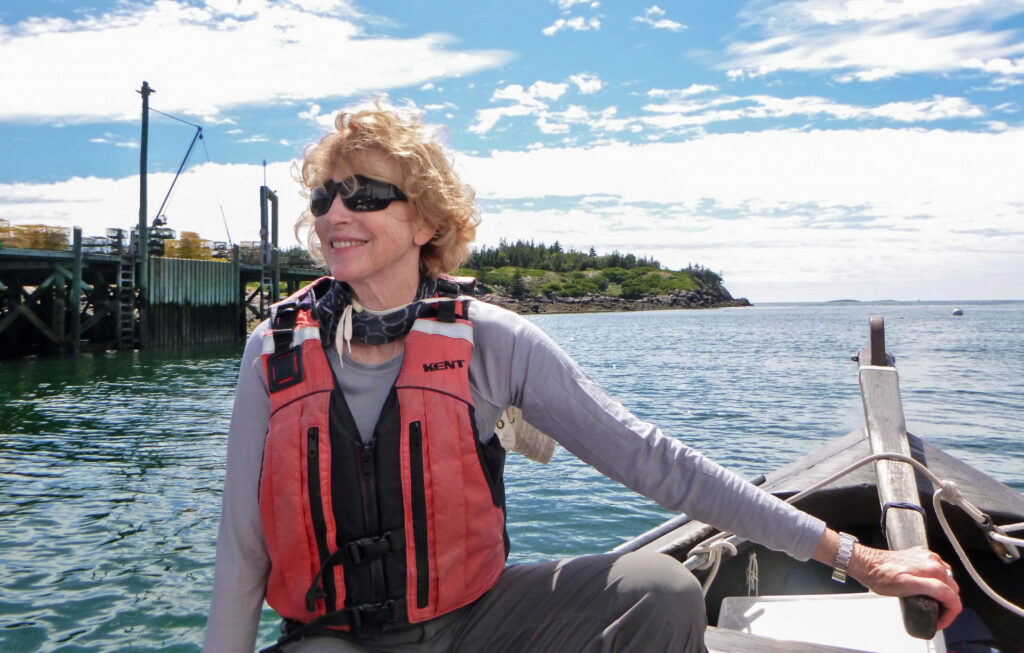 The first 'women over 65' expedition to Burnt Island took place in September 2019. Since then, new crew members have joined us each year, adding immeasurably to the richness of our cumulative experience. We've learned to sail, hike through wild terrain, and go on Solo. And in our encounters with ourselves in the wilderness of Burnt Island, we are together transforming the notion of a women's retreat.
This week, HIOBS will once again host the Adventurous Women's Island Retreat (AIR) course, with our beloved Peals still at the helm, and close to a dozen women setting off on this special adventure. I am honored to be among them.
---